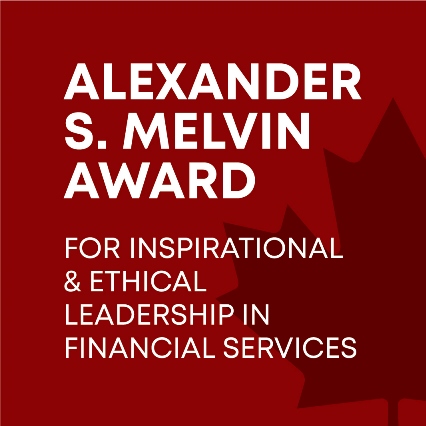 2023 Alexander S. Melvin Award for Inspirational & Ethical Leadership in Financial Services Call for Nominations
TORONTO, January 31, 2023: The Alexander S. Melvin Leadership Award committee is seeking the nomination of inspirational and ethical leaders in the Canadian banking and insurance industries for the 2023 award. A donation of $5,000 will be made to a charitable organization selected by the winner.
The prestigious award is named for Alex Melvin, the well-known industry leader who co-founded CANNEX Financial Exchanges, and passed away in 2015. This year it will be presented as part of the Canadian Association of Independent Life Insurance Brokerages (CAILBA) National Conference on April 17.
"The annual award celebrates Alex's life by recognizing and supporting leaders in the Canadian financial services industry who embody his integrity and ability to inspire others," said CANNEX CEO, Lowell Aronoff, who co-founded CANNEX with Melvin. "The award serves as a powerful reminder of the importance of ethics to successful careers and the industry as a whole."
Nominations for the 2023 award, which is underwritten by CANNEX, will be accepted through March 3, 2023. The awards committee, which includes representatives from across the financial industry, reviews submissions and selects an awardee based on contributions to innovation, technology, entrepreneurial spirit, collaborative leadership, and mentoring.
Past winners include Gord Mooney, president emeritus of General Bank of Canada, and Terri Botosan, chief executive officer of HUB Financial Inc., as well as other senior executives from both the banking and insurance industries.
For more information and to submit nominations visit the Alexander S. Melvin Leadership Award website.
About the Alexander S. Melvin Leadership Award
Since 2016, the Alexander S. Melvin Leadership Award has recognized individuals in the Canadian financial services industry who, through their inspirational and ethical leadership, have changed the industry for the better. Named after industry leader Alex Melvin, who passed away in 2015, the award is given to outstanding professionals who embody his inspirational and ethical leadership and who demonstrate a collaborative spirit and willingness to help others succeed.
About CANNEX
CANNEX Financial Exchanges Ltd. supports the exchange of pricing and data for annuities and bank products including term deposits and guaranteed interest contracts (GICs). The firm's data gives financial institutions the ability to evaluate and compare various guarantees associated with savings and retirement products. For more information about CANNEX, visit www.cannex.com.